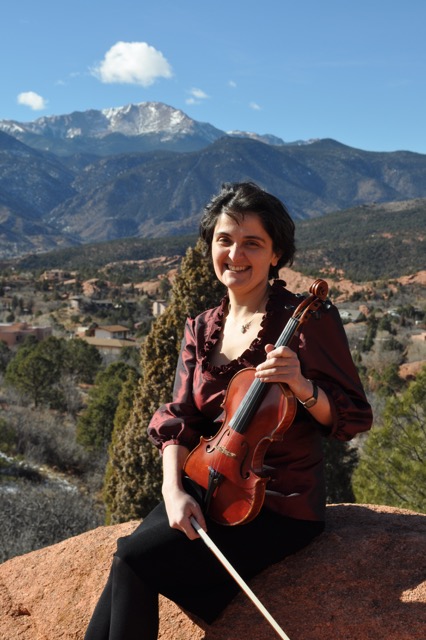 Instructor
(719) 502-3200 | Karine.Garibova@PikesPeak.edu
Box C16, Centennial | F-200
Violinist Karine Garibova was born and raised in Moscow and started playing violin at the age six. Ms. Garibova earned a M.M. in violin performance and pedagogy, and a D.M.A. in String Quartet performance from the Gnesins' Russian Academy of Music in Moscow, Russia.
Ms. Garibova is a founding member of the Veronika String Quartet, which launched itself onto the international arena early, taking top prizes at the Melbourne International Chamber Music Competition and Shostakovich International String Quartet Competition among others. Since then, this foursome has appeared in important halls in Moscow, London, Madrid, Jerusalem, New York and Chicago. Noteworthy collaborations have included those with members of the Amadeus, American and Fine Arts quartets, and with Ruth Laredo, Richard Stolzman, and Lawrence Leighton Smith.
Performances of the complete canon of the quartet repertory, coupled with its devotion to the modernist idiom, have resulted in a discography of nine recordings on Carlton Classics and Vienna Modern Masters, featuring an impressive array of works ranging from W.A. Mozart to Nancy Van de Vate. The Veronika String Quartet has held artistic posts at Colorado State University - Pueblo and at Ohio's Lancaster Music Festival, where it currently performs as quartet-in-residence.
Since 2000 Ms. Garibova has also been playing with the Colorado Springs Philharmonic under the direction of Josep Caballé Domenech, where she became Associate Principal Second Violin in 2004. She teaches privately in Colorado Springs and coaches the Colorado Springs Youth Symphony and the Alpenglow Music Programs. Ms. Garibova also enjoyed serving on the faculty of Colorado College, Pikes Peak State College and Denver University. Karine is a member of the Music Teacher National Association and the Pikes Peak Musicians Association.

Ms. Garibova is collaborating in chamber music performances with musicians from Colorado to Russia. Among those are memorable sessions with Lawrence Leighton Smith, Altezza Trio and colleagues from the Moscow Virtuosi.