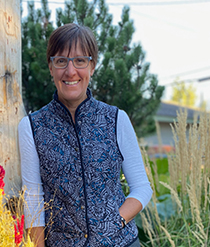 Communications Coordinator
(719) 502-2082 | Karen.Kovaly@pikespeak.edu
Box C11, Centennial | A-212
Karen is the point of contact for promoting all campus events and announcements to our students. She produces The Stall Street Journal which is the main vehicle for this communication. Karen also writes and sends press releases to the local TV stations and newspapers to create awareness in the community about what the college is doing. She also writes content for a variety of marketing and communication materials.
Karen graduated from the University of Connecticut with a bachelor's in Communication and has worked in the marketing and communication field for more than 20 yrs. She's an avid world traveler, outdoor sportswoman, and gardener.
B.A., University of Connecticut, 1986.